Never Miss A Match On TV Again!
The Live Football On TV iPhone and iPad app is dedicated to providing the most up-to-date, extensive and accurate listings of live football on television in the UK. Over 400,000 downloads and nearly 1,000 overwhelming 4 & 5 star reviews show this is the must have app for football fans!

The app provides users with match schedules for all major UK television broadcasters and includes all matches - whether domestic, continental, European, reserve leagues, youth competitions, women's football. If it's on TV, it's listed in the app.

You can easily browse by full match list, by competition or by channel. You can also choose your favourite teams, channels or competitions to display on your filtered favourites list.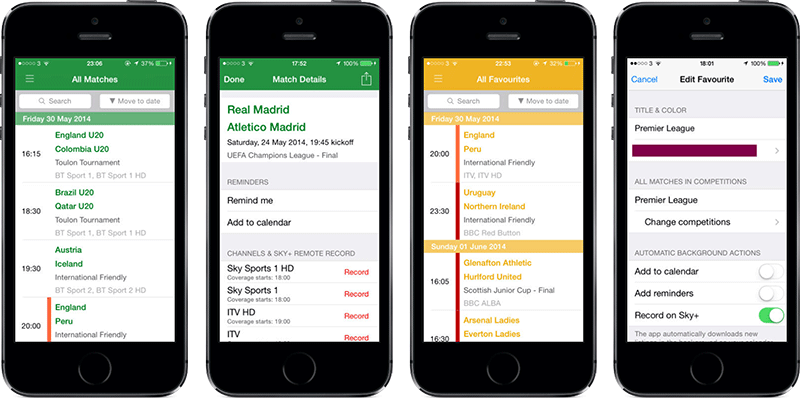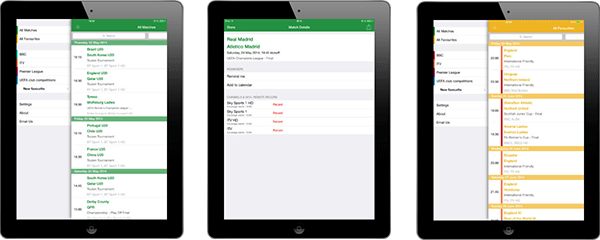 Competitions listed in the app include: Premier League, FA Cup, Capital One Cup, Championship, League One, League Two, UEFA Champions League, UEFA Europa League, SPL, La Liga, Serie A, Bundesliga, Eredivisie, MLS and many more!
Channels included in the app: BBC, ITV, Channel 5, S4C, Sky Sports, BT Sport, ESPN, British Eurosport, Premier Sports, MUTV, Chelsea TV and many more!
Over 1000 teams: to choose from including, every team in the the major European leagues and every major international side!
SKY+ REMOTE RECORD! - If you're a Sky subscriber with a Sky+ / Sky+HD box you can now schedule your Sky+ to record matches directly from the app! Simply enter your Sky ID details and use the "Record on Sky+" match action option.

Features:
- Browse the live match schedule, swipe a match to get quick actions or tap a match to get full details
- Create favourites for quick access to your preferred teams, competitions and channels
- Sky+ subscribers can Remote Record matches direct from the app!
- Add match reminders or save matches to your calendar
- Easily share match details via Twitter, Facebook, email etc
Subscribe:
Subscribe for only £1.99 per year to:
- Get access to the full future match schedule
- Enable bulk add to calendar from your favourites
- Full text search on the match listing
- Enable background actions on your favourites to automatically setup reminders, add matches to your calendar and Remote Record to Sky+ without even opening the app!
What The Users Say:
- "Just get it. Superb."
- "Great App. Couldn't be without it."
- "Best app for football lovers."
What The Press Say:
- Daily Telegraph – 10 Essential Apps for Football Fans – "Save your thumb from needless channel clicking with this handy app that tells you which matches are on TV and on what channel."
- T3 - Best Football Apps: Essential 2013-14 Season downloads – "this app will ensure armchair fans never miss a game that is being televised in the UK!"
- Stuff – 5 of the Best Football Apps
The free app provides limited access to the match schedule list. The full future match schedule can be accessed via an annual subscription for £1.99.
The Live Football On TV App has recently been featured in the Top 10 Football Apps in

What's New in Version 2.0
Complete redesign:
- Single, easier to browse match

- Tap a match to get full details and reminder/record actions

- Swipe a match from right to left to reveal quick actions

- Hugely expanded Favourites: setup your favourite teams, channels and competitions and add a touch of personality with custom colours for each!
New reasons to subscribe:
- FULL MATCH LISTINGS: including all matches announced even months in advance

- BULK ADD TO CALENDAR: easily add all matches from your favourites to your calendar!

- AUTOMATIC BACKGROUND ACTIONS: use the new Favourites to setup reminders, add new matches to your calendar and Remote Record to Sky+ without even opening the app!

- QUICK SEARCH: filter the match list with full text search across all attributes - team names, channels, competitions, day, month, date!

Improvements and bug fixes:
- Background updates! The match schedule updates without even opening the app

- New slide in left menu with quick access to your favourites

- Improved Sky+ options to include recording on standard definition channels and improve handling regional programming variations

- Improved match reminder options: setup simple local notifications on your device or add matches to a specific calendar

- No more issues with the match list jumping back to "Today" when browsing

- The app uses the system wide Text Size (Settings app -> General -> Text Size) to try to ensure the display is as comfortable for you to read as possible
Customer Reviews: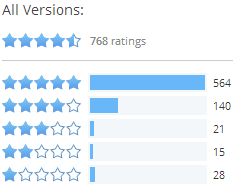 Developers:
This app has been developed in partnership by Neil Hale, the creator of Live-FootballOnTV.Com and Colm McMullan, the developer of the Four Four Two Stats Zone app.
It would mean a lot to us if you could leave a review in the app store! If you have any problems with the app, have any ideas on improvements, or would like to sponsor the app, then please Contact Us.
Requirements:
Requires iOS 7.0 or later. Compatible with iPhone, iPad, and iPod touch. This app is optimized for iPhone 5, iPhone 6, and iPhone 6 Plus.